Description
Introducing the Ultimate Lawn & Garden Tire 2-Pack: Your Path to Effortless Outdoor Power!Dynamic Duo:
Get ready for outdoor greatness with our 2-pack of 24x12.00-12 lawn & garden tires. Whether you're dealing with snow, tackling a trenching project, or powering your trusty lawn or garden tractor, these tires are your ideal companions.
Measure for a Perfect Fit:
Before making your purchase, take a quick look at your existing tire sidewall. Check for tire, hub, and bushing sizes to ensure a seamless replacement fit. It's the key to hassle-free installation.
Maintenance-Free Bliss:
Say goodbye to tiresome tire care! Our tires are designed for the long haul, maintenance-free and tubeless, and boast puncture-resistant technology. Save your valuable time and enjoy peace of mind.
Grass-Friendly Tread:
The deep tread on our tires is more than a feature; it's your secret to a pristine lawn. Minimize disturbance to grass and sensitive surfaces, so you can keep your outdoor space looking flawless.
Note for Speedsters: These tires belong to the NHS series, which means they're not built for high-speed adventures. Keep them within their comfort zone for optimal performance.
Upgrade your outdoor experience with the Lawn & Garden Tire 2-Pack. It's time to conquer your outdoor projects with ease!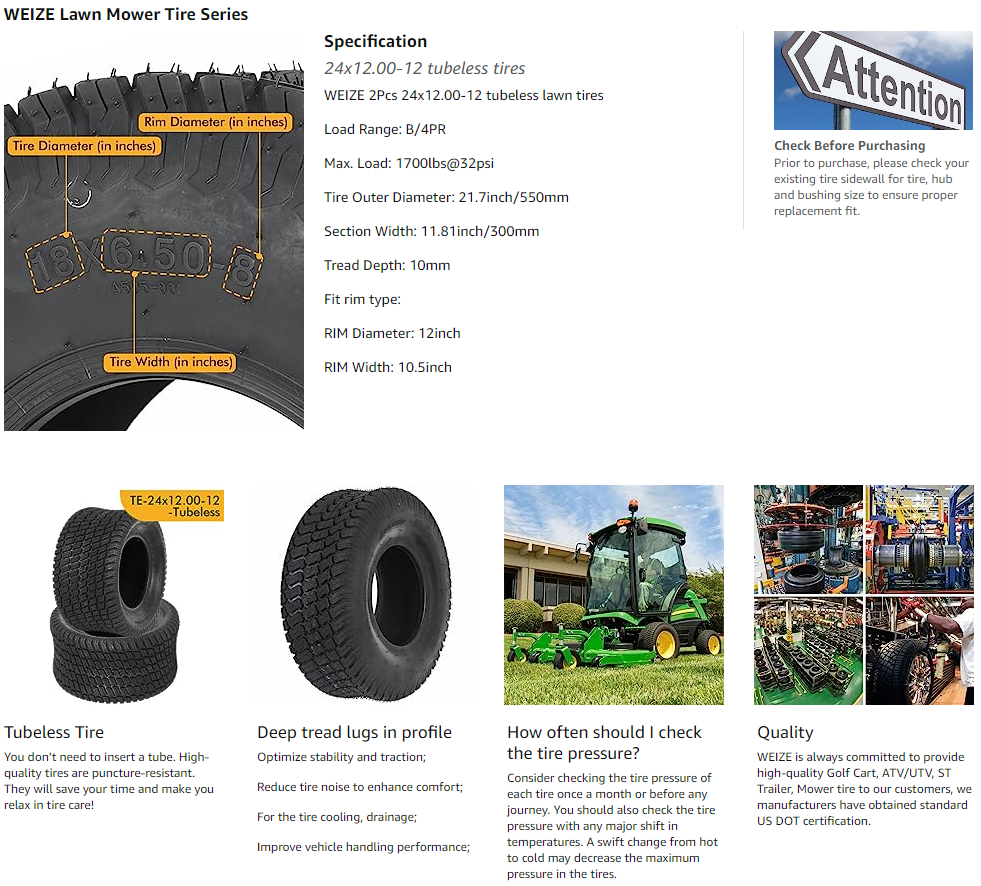 WEIZE 24x12.00-12 Lawn Mower Tire, 24x12.0-12 Tractor Turf Saver Tire, 4 ply Tubeless, 1190lbs Capacity (2-PACK)
$159.99